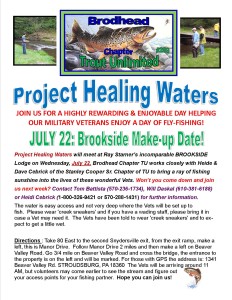 Project Healing Waters will meet at Ray Starner's incomparable BROOKSIDE Lodge on Wednesday, July 22. Brodhead Chapter TU works closely with Heide & Dave Cebrick of the Stanley Cooper Sr. Chapter of TU to bring a ray of fishing sunshine into the lives of these wonderful Vets. Won't you come down and join us next week? Contact Tom Battista (570-236-1734), Will Daskal (610-381-6188) or Heidi Cebrick (1-800-326-9421 or 570-288-1431) for further information.
The water is easy access and not very deep where the Vets will be set up to fish.  Please wear 'creek sneakers' and if you have a wading staff, please bring it in case a Vet may need it.  The Vets have been told to wear 'creek sneakers' and to expect to get a little wet.
Directions : Take 80 East to the second Snydersville exit, from the exit ramp, make a left, this is Manor Drive.  Follow Manor Drive 2 miles and then make a left on Beaver Valley Road. Go 3/4 mile on Beaver Valley Road and cross the bridge, the entrance to the property is on the left and will be marked. For those with GPS the address is: 1341 Beaver Valley Rd. STROUDSBURG, PA 18360 The Vets will be arriving around 11 AM, but volunteers may come earlier to see the stream and figure out your access points for your fishing partner. Hope you can join us!