The Brodhead Chapter of Trout Unlimited will hold a unique conservation program during its meeting on September 9. The meeting will be held at 7 p.m. at the Kettle Creek Environmental Center in Bartonsville.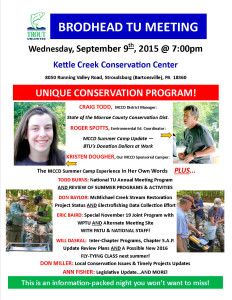 Speakers and topics for the event include:
CRAIG TODD, MCCD District Manager: State of the Monroe County Conservation Dist.
ROGER SPOTTS, Environmental Ed. Coordinator: MCCD Summer Camp Update — BTU's Donation Dollars at Work
KRISTEN DOUGHER, Our MCCD Sponsored Camper: The MCCD Summer Camp Experience in Her Own Words
TODD BURNS: National TU Annual Meeting Program and review of summer programs and activities
DON BAYLOR: McMichael Creek Stream Restoration Project Status and Electrofishing Data Collection Effort
ERIC BAIRD: Special November 19 Joint Program with Western Pocono TU and alternate Meeting Site with PATU and National Staff
WILL DASKAL:  Inter-Chapter Programs, Chapter S.A.P. Update Review Plans and a Possible New 2016 FLY-TYING CLASS next summer!
DON MILLER: Local Conservation Issues & Timely Projects Updates
ANN FISHER: Legislative Update…and more
WHEN: Wednesday, September 9, 2015 at 7:00 p.m.
WHERE: Kettle Creek Environmental Education Center, 8050 Running Valley Road — Bartonsville (Stroudsburg), PA 18360
NOTE: The Bridge on Rim Rock Drive near Route 611 is under construction and the road is closed. The KCEEC is inaccessible from Rte. 611. Access from BUS. RT. 209 or other alternate route is needed.
GPS Coordinates for KCEEC – Kettle Creek Environmental Education Center:
Longitude (West) – 750 17' 48.552"
Latitude (North) 400 59' 21.1164"

Directions to Monroe County Conservation District and the Kettle Creek Environmental Education Center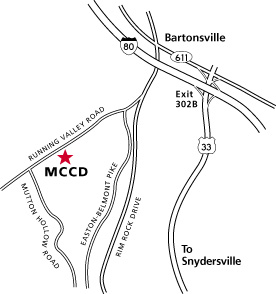 (Exit 302 I-80West or 302B I-80 East)
* Make a left onto Route 611N
* Make a left onto Rim Rock Road at second traffic light
* Follow for 0.4 mile, bear right onto N. Easton-Belmont Pike
* Follow 0.2 mile, then bear right onto Running Valley Road
* MCCD/KCEEC will be 0.7 mile on left.