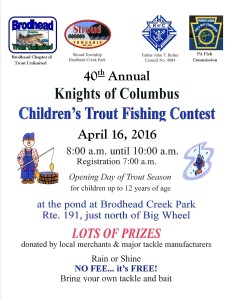 The 40th Annual Knights of Columbus Trout Fishing Contest will be held April 16, opening day of trout season, from 8-10 a.m. at the pond at Brodhead Creek Park on Route 191 just north of the Big Wheel Roller Skating Rink.
The event is free, just bring your own tackle and bait. There will be lots of prizes donated by local merchants and major tackle manufacturers.
The event will be held rain or shine.
Click Here to Download the Flyer in Adobe Acrobat Format.
Below is a photo gallery from last year's event: