The Brodhead Chapter of Trout Unlimited will hold a unique conservation program during its meeting on September 14. The meeting will be held at 7 p.m. at the Kettle Creek Environmental Center in Bartonsville.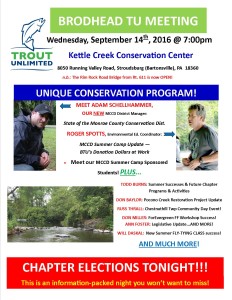 Speakers and topics for the event include:
ADAM SCHELLHAMMER: New MCCD District Manager: State of the Monroe County Conservation Dist.
ROGER SPOTTS: Environmental Ed. Coordinator: MCCD Summer Camp Update — BTU's Donation Dollars at Work
TODD BURNS: Summer successes and future chapter programs and activities
DON BAYLOR: Pocono Creek Restoration Project Update
RUSS THRALL: Chestnuthill Township Community Day Event
DON MILLER: ForEvergreen Fly-Fishing Workshop
ANN FOSTER: Legislative Update…and more
WILL DASKAL:  New 2016 Summer FLY-TYING CLASS!
Chapter Elections will also be held. See the nominating committee report.
WHEN: Wednesday, September 14, 2015 at 7:00 p.m.
WHERE: Kettle Creek Environmental Education Center, 8050 Running Valley Road — Bartonsville (Stroudsburg), PA 18360
NOTE: The Bridge on Rim Rock Drive is Open!
GPS Coordinates for KCEEC – Kettle Creek Environmental Education Center:
Longitude (West) – 750 17' 48.552"
Latitude (North) 400 59' 21.1164"

Directions to Monroe County Conservation District and the Kettle Creek Environmental Education Center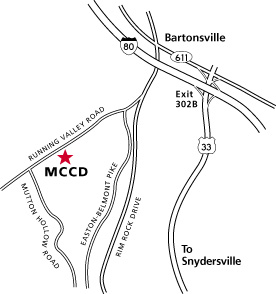 (Exit 302 I-80West or 302B I-80 East)
* Make a left onto Route 611N
* Make a left onto Rim Rock Road at second traffic light
* Follow for 0.4 mile, bear right onto N. Easton-Belmont Pike
* Follow 0.2 mile, then bear right onto Running Valley Road
* MCCD/KCEEC will be 0.7 mile on left.