The March Brodhead Chapter of Trout Unlimited will feature The Poconos – Cradle of American Fly Fishing, a presentation by Chapter Board Member Don Baylor. The presentation will take place on Wednesday, March 8 at 7:00 p.m. at the Kettle Creek Environmental Education Center in Bartonsville.
Baylor, renowned Pocono fly fisherman, author, and artist, will provide a fascinating slide program on the history of trout fishing in the Poconos. Pennsylvania is steeped in trout fishing tradition and evidence exists that the Poconos was the birthplace of fly fishing in America. Through Don's extensive research he will explore and explain the rich trout fishing literature, legends, and lore of the sport in the Poconos and the many celebrities, presidents, and writers who have fished its storied waters and lodged in its grand hotels and hostelries- including the almost mythic Henryville House among others.
Just some of the names from the 1800's and early 1900's who graced these waters reads like a Who's Who of historical characters: presidents Teddy Roosevelt, Grover Cleveland, Benjamin Harrison, Calvin Coolidge, General Phillip Sheridan, governor Gifford Pinchot, boxing greats John L. Sullivan and Jake Kilrain, legendary fishing writers Edward Ringwood Hewitt, Henry Van Dyke, and John Taintor Foote, fishing luminaries George LaBranche, Ernie Schweibert, Jim Leisenring and Charlie Fox, and last but not least Buffalo Bill and Annie Oakley.
Don is a true student of the sport and this historical presentation highlights fly fishing as more than just catching fish. Through its origins here in the Poconos on legendary streams such as the Brodhead, Paradise Creek and the Leavitt Branch he brings to life these fascinating figures against a backdrop of the natural beauty of the Poconos and delights audiences with the rich trout fishing heritage we have here in our own backyard. The Brodhead TU chapter, of which Don is a founding member, has been instrumental in preserving these historic waters.
For those of us who relish this grand sport of trout fishing help us kick off the new season with this inspiring and enlightening presentation.
WHEN: March 8, 2017 7:00 p.m.
WHERE: Kettle Creek Environmental Education Center, 8050 Running Valley Road — Bartonsville (Stroudsburg), PA 18360
NOTE: The Bridge on Rim Rock Drive is Open!
GPS Coordinates for KCEEC – Kettle Creek Environmental Education Center:
Longitude (West) – 750 17' 48.552"
Latitude (North) 400 59' 21.1164"

Directions to Monroe County Conservation District and the Kettle Creek Environmental Education Center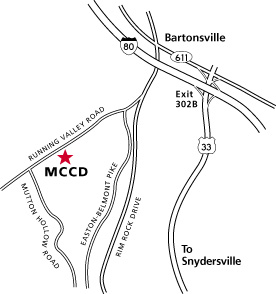 (Exit 302 I-80West or 302B I-80 East)
* Make a left onto Route 611N
* Make a left onto Rim Rock Road at second traffic light
* Follow for 0.4 mile, bear right onto N. Easton-Belmont Pike
* Follow 0.2 mile, then bear right onto Running Valley Road
* MCCD/KCEEC will be 0.7 mile on left.