At the May 10 Brodhead Chapter of Trout Unlimited (TU) meeting, representatives from four Pocono fishing clubs will provide an overview of their respective clubs and discuss stream management practices and water conservation efforts on their properties. These four clubs provide protection along many miles of upstream waters on the Brodhead Creek, McMichaels Creek, and Tobyhanna Creek. After brief presentations, the floor will be open to questions from the audience of TU members and friends. At the conclusion of the program, one or more raffles will be held for a Day on the Water that the clubs provide.
In attendance will be:
• Brodhead Forest and Stream Association
• Brodhead Hunting and Fishing Club
• Pohoqualine Fish Association
• Tobyhanna Conservation Association

WHEN: May 10, 2017 7:00 p.m.
WHERE: Kettle Creek Environmental Education Center, 8050 Running Valley Road — Bartonsville (Stroudsburg), PA 18360
NOTE: The Bridge on Rim Rock Drive is Open!
GPS Coordinates for KCEEC – Kettle Creek Environmental Education Center:
Longitude (West) – 750 17' 48.552"
Latitude (North) 400 59' 21.1164"

Directions to Monroe County Conservation District and the Kettle Creek Environmental Education Center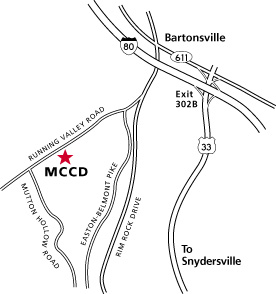 (Exit 302 I-80West or 302B I-80 East)
* Make a left onto Route 611N
* Make a left onto Rim Rock Road at second traffic light
* Follow for 0.4 mile, bear right onto N. Easton-Belmont Pike
* Follow 0.2 mile, then bear right onto Running Valley Road
* MCCD/KCEEC will be 0.7 mile on left.