For the second consecutive year, the Pennsylvania Fish and Boat Commission (PFBC) is adding more waters to the increasingly popular Keystone Select Stocked Trout Program, bringing to 22 the total number of creeks holding the big 14"-20" trophy trout.
Among the areas added is the Delayed Harvest Artificial Lures Only (DHALO) Section of the McMichael Creek in Hickory Valley Park where the Brodhead Chapter of Trout Unlimited performed habitat improvement work in 2012.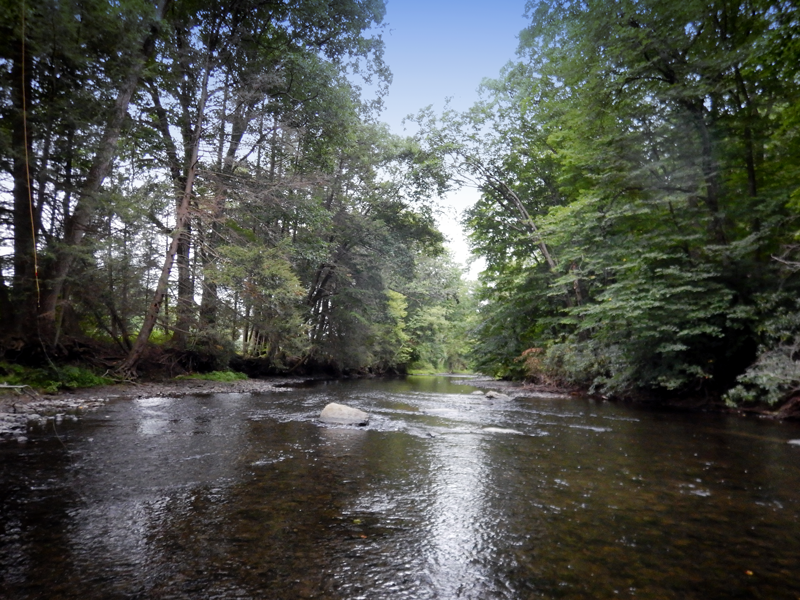 The eight new waters, which will be stocked for the 2018 trout season, include:
Armstrong County, Buffalo Creek, Section 03 (3.70 miles) – Little Buffalo Run downstream to 0.6 miles upstream of SR4035 (Craigsville)
Berks County, Tulpehocken Creek, Section 06 (1.95 miles) – Outflow Blue Marsh Lake downstream to SR3008 Bridge (Rebers Road bridge)
Fayette County, Meadow Run, Section 06 (2.20 miles) – Bridge on Dinner Bell Road (SR2011) downstream to the mouth
Lebanon County, Quittapahilla Creek, Section 04 (1.10 miles) – Spruce Street Bridge (T-398) downstream to SR0934 bridge
Lycoming County, Lycoming Creek, Section 04 (1.30 miles) – First overhead utility line upstream of Powys Curve downstream to bridge on old Route 15 (SR0015) near Haleeka
Monroe County, McMichael Creek, Section 04 (1.44 miles) – 1.6 km downstream Beaver Valley Road (T-414) bridge downstream to 1.14 km downstream Turkey Hill Road (T-416) bridge
Snyder County, Middle Creek, Section 04 (1.20 miles) – SR4007 bridge downstream to the downstream boundary of State Game Lands 188
Tioga County, Pine Creek, Section 06 (1.06 miles) – Darling Run downstream to 150 m downstream of Owassee Slide Run
The PFBC announced earlier this year that it was adding six waters to the program, which was first launched in 2016 with eight creeks. Today's announcement came during the PFBC's quarterly business meeting held here.
"We were confident when we created the Keystone Select program that anglers would enjoy the opportunities to catch trophy trout and wouldn't mind driving the additional distances to these destination areas," said PFBC Executive Director John Arway. "The addition of these eight streams now makes it even easier for anglers to fish a Keystone Select stream within just a few hours of their home."
Under the program, approximately 6,500 large trout will be distributed among the 22 waters. The trout will be stocked at a rate of 175 to 225 per mile, which is comparable to the numbers of similarly sized fish in Pennsylvania's best wild trout waters.
The waters are regulated under (DHALO regulations, which provides the opportunity to catch these fish multiple times. Under DHALO regulations, waters are open to fishing year-round, but anglers can harvest trout only between June 15 and Labor Day and the trout have to be a minimum of nine inches. For the rest of the year, these waters are managed on a catch-and-release-only basis and the creel limit is zero. Tackle is limited to artificial lures and flies.
The six waters added earlier this year include:
Berks County, Tulpehocken Creek, Section 7 (1.84 miles)
Cambria County, Chest Creek, Section 3 (1.80 miles)
Fulton County, Big Cove Creek, Section 3 (0.93 miles)
Luzerne County, Harveys Creek, Section 4 (1.70 miles)
McKean County, Kinzua Creek, Section 4 (2.29 miles)
Venango County, Oil Creek, Section 7 (1.55 miles)
The original eight waters include:
Chester County, Middle Branch White Clay Creek, Section 3 (1.67 miles)
Dauphin County, Wiconisco Creek, Section 3 (0.74 miles)
Lackawanna/Wyoming Counties, South Branch Tunkhannock Creek, Section 4 (0.99 miles)
Lawrence County, Neshannock Creek, Section 3 (2.67 miles)
Lycoming County, Loyalsock Creek, Section 5 (1.49 miles)
Potter County, First Fork Sinnemahoning Creek, Section 4 (1.67 miles)
Somerset County, Laurel Hill Creek, Section 3 (2.33 miles)
Westmoreland County, Loyalhanna Creek, Section 3 (1.67 miles)
In addition, commissioners added 99 waters to the list of wild trout streams; adjusted the section limits of two waters; and removed one water from the list. Three stream sections were added to the list of Class A wild trout streams.