The September General Meeting of the Brodhead Chapter of Trout Unlimited will feature Lori Kerrigan, is currently the Head Resource Conservationist, and supervisor of the permitting/technical section at Monroe County Conservation District who will present on the project to restore the streambank on Sand Spring Run.

Lori has facilitated the development of a partnership with the PA Game Commission and DEP. Through this partnership, MCCD obtained a two-part Growing Greener Grant, to improve water quality, restore the natural stream functions, minimize bank erosion and restore habitat in a headwater reach of Sand Spring Run in the Upper Pocono watershed. The project came about to address an historic stone box culvert failure, below the 75-foot-high impoundment that supported the Wilkes Barre and Eastern (WB&E) Railroad crossing.
When completed, the Sand Spring Run Streambank Restoration Project will provide a significant reduction in sediment loading, to the Pocono and Brodhead Creek Watersheds, restored riparian buffer and enhancement of both instream and riparian habitat.
The event is free, and you can let us know you are coming and register online.
WHEN: Wednesday, September 14, 2022 at 7:00 pm
WHERE: Kettle Creek Environmental Education Center, 8050 Running Valley Road — Bartonsville (Stroudsburg), PA 18360
GPS Coordinates for KCEEC – Kettle Creek Environmental Education Center:
Longitude (West) – 750 17' 48.552"
Latitude (North) 400 59' 21.1164"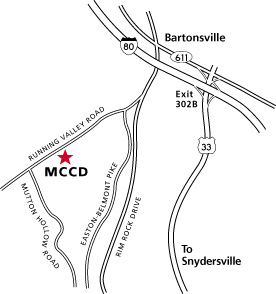 Directions to Monroe County Conservation District and the Kettle Creek Environmental Education Center
Google Map Directions – Click Here
(Exit 302 I-80West or 302B I-80 East)
* Make a left onto Route 611N
* Make a left onto Rim Rock Road at second traffic light
* Follow for 0.4 mile, bear right onto N. Easton-Belmont Pike
* Follow 0.2 mile, then bear right onto Running Valley Road
* MCCD/KCEEC will be 0.7 mile on left.