The September General Meeting of the Brodhead Chapter of Trout Unlimited will feature Larry Ott who will provide an interesting look at the earliest fly-fishing terminal tackle. He will include what collectors call "The Big Five" fishing lure companies. A number of other Mom and Pop companies will also be included. He will briefly touch on the Jamison/Decker World Fishing Tournament of 1910 and will conclude with a few of our Pocono lures.
Larry is a retired biology teacher with an obsession with vintage and antique fishing tackle. Larry is a Brodhead TU board member as well as a member of the NFLCC, National Fishing Lure Collectors' Club, and regularly attends their National Conventions.
The event is free, and you can let us know you are coming and register online.
WHEN: Wednesday, September 13, 2023 at 7:00 pm
WHERE: Kettle Creek Environmental Education Center, 8050 Running Valley Road — Bartonsville (Stroudsburg), PA 18360
GPS Coordinates for KCEEC – Kettle Creek Environmental Education Center:
Longitude (West) – 750 17' 48.552"
Latitude (North) 400 59' 21.1164"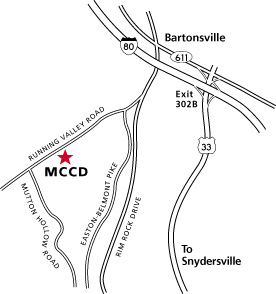 Directions to Monroe County Conservation District and the Kettle Creek Environmental Education Center
Google Map Directions – Click Here
(Exit 302 I-80West or 302B I-80 East)
* Make a left onto Route 611N
* Make a left onto Rim Rock Road at second traffic light
* Follow for 0.4 mile, bear right onto N. Easton-Belmont Pike
* Follow 0.2 mile, then bear right onto Running Valley Road
* MCCD/KCEEC will be 0.7 mile on left.