On Tuesday, October 11th the Brodhead Chapter of Trout Unlimited will be presenting legendary PA Trout Angler, Frank Nale at the Roseto Rod and Gun Club.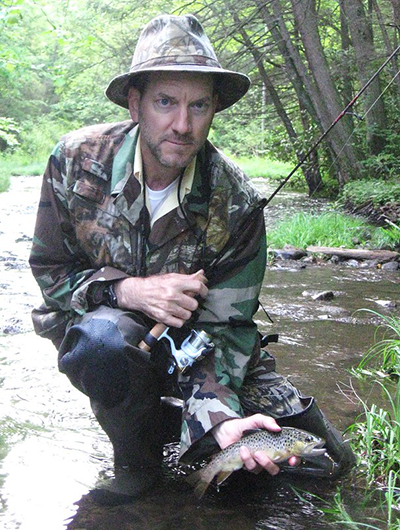 Would you like to learn the secrets of how to catch more trout than most anglers think is possible? If so, you won't want to miss Frank Nale's PowerPoint program on fishing spinners for wild trout. Frank is from Blair County and casts his homemade lures in large streams such as the Little Juniata River, Penns Creek, and Spring Creek in Centre County, as well as numerous small streams, both limestone and freestone. This fast-paced program will cover proper spin fishing tackle, correct technique, stream selection, and the other things he enjoys while streamside besides catching trout.
Frank, a retired accountant, has been a dedicated spinner fisherman and Trout Unlimited member since 1979 and has logged nearly 27,000 hours casting spinners. During the last 43 years he has learned and perfected many of the little things that it takes to be successful, and he will be sharing them with you. His proven technique has helped him catch and release over 327,000 trout in streams open to free public angling, including an average of over 10,000 trout per year for the last twenty-eight years. While many anglers would consider catching a dozen trout in a day a stellar outing, Frank has averaged over twelve trout per hour during the last thirty-four years.
In addition to his one-hour slide presentation, which will feature new photographs, Frank will give a brief casting demonstration followed by a question and answer period. A handout, "SPIN FISHING FOR WILD TROUT — Tackle, Tips & Technique" lists the critical points of his program and will be given to everyone. Also, for those interested, a handout showing in detail the parts necessary for constructing homemade spinners will be available.
For anglers who already use spinners, you will not want to miss this chance to take your spin fishing to the next higher level. For bait and fly anglers, Frank guarantees his tips will help you bring more trout, both stocked and wild, to hand. Even people who don't fish have enjoyed Frank's presentation. So why not join us for an enjoyable evening of trout talk and camaraderie. You'll be glad you came."
The event is FREE, but we ask that you register online.
WHEN: Tuesday, October 11, 2022 – 7PM
WHERE: Roseto Rod and Gun Club, 30 Shooktown Rd, Bangor, PA 18013