At the Brodhead Chapter of Trout Unlimited March meeting, Rob Shane, Trout Unlimited's Mid-Atlantic Organizer, will be talking about TU's initiatives in the region. Primarily, the focus of his team in the past year has been the Unassessed Waters Initiative, the Clean Water Rule, and threats to wild trout from energy and other forms of development. Also, Rob will talk a little bit about ways the chapter can engage in advocacy efforts at the local, state, and federal levels.
Rob joined the Mid-Atlantic Advocacy team in October 2017. Previously, he was working as the Volunteer Operations Coordinator with TU out of the Arlington, VA office. A native of Columbus, Ohio, Rob has spent much of his life fishing for steelhead and trout in Pennsylvania and has deep ties to the resources of the keystone state.
WHEN: Wednesday, March 14, 2018 at 7:00 pm
WHERE: Kettle Creek Environmental Education Center, 8050 Running Valley Road — Bartonsville (Stroudsburg), PA 18360
NOTE: The Bridge on Rim Rock Drive is open.
GPS Coordinates for KCEEC – Kettle Creek Environmental Education Center:
Longitude (West) – 750 17' 48.552"
Latitude (North) 400 59' 21.1164"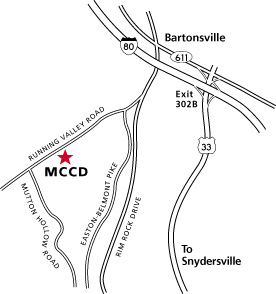 Directions to Monroe County Conservation District and the Kettle Creek Environmental Education Center
Google Map Directions – Click Here
(Exit 302 I-80West or 302B I-80 East)
* Make a left onto Route 611N
* Make a left onto Rim Rock Road at second traffic light
* Follow for 0.4 mile, bear right onto N. Easton-Belmont Pike
* Follow 0.2 mile, then bear right onto Running Valley Road
* MCCD/KCEEC will be 0.7 mile on left.